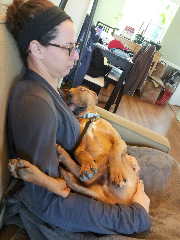 Well, ya know the expression, "BADDA BING, BADDA BOOM"?
Well, basically, Bing is taking that expression to a whole new level.
To define the expression Badda Bing, Badda Boom it takes a little umph and cuteness in this case. It means "that's a wrap" or "that's it, its all taken care of". And apparently, Bing can do with his eyes closed!
This little puppy is saying no more mean people and fighting ring for me!
"From now on, this is my life...Just lounging in arms and loving life!"
http://www.dogsxlrescue.org/donate